IDOT Pump Station #26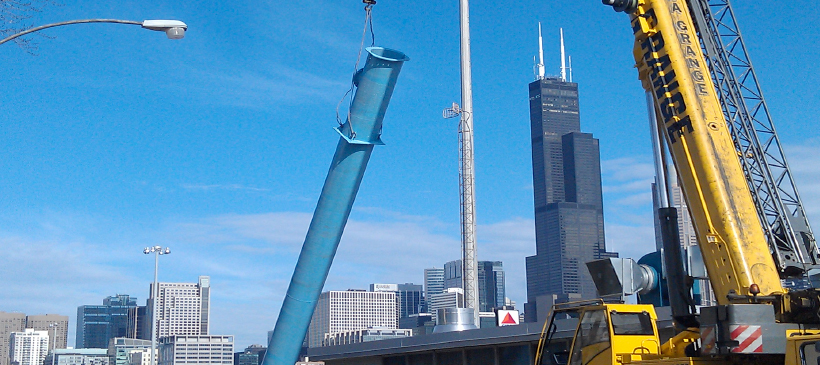 John Burns Construction Company has recently completed a Pump Station Rehabilitation Project for the Illinois Department of Transportation located near the intersection of Roosevelt & Union in Chicago, IL.
• The project consisted of the complete rehabilitation of the existing pump station including electrical, mechanical, structural, architectural and civil disciplines with the bulk of the work consisting of mechanical and electrical upgrades.
• The mechanical upgrades included the complete removal of six (6) 10,000 gpm pumps and a 2,500 gpm low flow pump. The station was then fitted with seven (7) 200 HP 480V 10,000 gpm submersible axial/mixed flow pumps with draft tube assembly columns and one (1) 2,500 gpm low flow pump with guide rail system. The existing bar screen was removed and replaced with a mechanical trash rake and bar screen. The new trash rake was shipped assembled to the project site, due to installation constraints with the existing site conditions, the new trash rake was fully dismantled in the field and re-assembled in it's final location without any performance issues during startup. The mechanical work also included the installation of a new 24" recirculation line with knife gate, slide gate, and a new ventilation system. The contract only allowed for one (1) pump to be take out of service at a time, thus requiring the new pumps and piping to be installed sequentially which allowed the pump station to have a firm pumping capacity of 60,000 gpm at all times.
• The major electrical upgrades included the installation and connection of two (2) new ComEd electrical services, modifications to the existing MCC including additional bucket sections to accommodate the additional mechanical equipment and modifications to the existing control and SCADA panels. The existing ComEd Transformer Room was demolished, a new ComEd transformer area constructed and two (2) new electrical services brought into the facility without interrupting the pump station operations. During construction John Burns Construction also provided 24-hour, 7 days a week emergency response to any pump station alarms as a contractual requirement.